From Last to First, Sanchez Grabs Checkers Again
Wins Street Stock Feature at Albany Saratoga
Victory Lane 8/14/20
Friday August 14, 2020 Results
Posted on by admin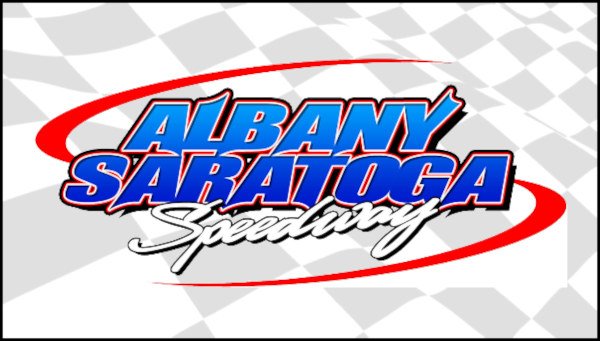 MALTA – The racing gods giveth, and the racing gods taketh away.
Just one week after running a nearly flawless race and outrunning defending champion Marc Johnson to get his first win of the season, Matt DeLorenzo made one mistake Friday night, and that miscue helped Johnson find his way to victory lane for the first time this year in the 35-lap modified feature at Albany-Saratoga Speedway. DeLorenzo was probably counting his money, which would have included the Madsen Overhead Doors/Flach Products $500 Back-to-Back bonus, instituted this season for any modified driver who can win two features in a row, when he was setting the pace with five laps to go.
A yellow flag on lap 31, created when Brian Berger spun, negated DeLorenzo's lead. DeLorenzo, who had been running the top, chose the inside lane for the restart and Johnson already has his strategy planned. He beat DeLorenzo to the third turn, coming out with the lead, and four laps later, he had his first checkered flag in his Scott Hamblin Racing, Snap-On Tools-sponsored Bicknell, which he debuted three weeks ago.
"Matt had taken the bottom of the other restarts, and then he was sliding to the top in the second turn," said Johnson, who had two straight second-place finishes prior to his Friday night win. "I knew I had to beat him to three, and when I did, that was it." "I spun my tires on the restart," said DeLorenzo after the race. "I was getting real loose the last five laps."
While DeLorenzo missed out on the back-to-back bonus, Johnson walked off with a top prize of $3,000, with the extra money provided through sponsorship by Bart Contracting.
The final battle was nearly a three-car tango, as Stewart Friesen, who had started 16th in the 30-car field, was sitting third on the final restart. He followed Johnson on the high side, but looking for even more bite, he slipped off the racing surface in the second turn with two laps to go, and wound up fifth. Peter Britten matched his best finish of the season, crossing the finish line third, while points leader Mike Mahaney finished fourth.
DeLorenzo was flying from the drop of the green flag, and after starting ninth, took the lead away from polesitter Matt Depew on lap 16. Johnson, who had started 11th, also charged past Depew for second and was making a run at DeLorenzo for the lead when Depew had a tire go down on lap 17, bringing out a yellow.
DeLorenzo and Johnson then locked into a side-by-side battle, with Johnson running the outside. Friesen joined the lead group when he made a low-to-high move around Rocky Warner on the 24th lap to move into third. But the slicked over track was causing a lot of traction issues, and when DeLorenzo spun his tires on the final restart, his quest for the back-to-back bonus was over.
Brian Calabrese picked up his second win of the year in the 25-lap sportsman feature. Calabrese, who usually sticks to the bottom of the racing surface, used the outside lane to his advantage Friday night and came out on top of a two-car battle with Dylan Bokus, who moved up to the sportsman division after winning the limited sportsman championship last season.
Calabrese, who had started 12th, finally got the lead for good with two laps to go, overshadowing Bokus' best performance of the season. Calabrese said he was encouraged when he saw two championship contenders, Tim Hartman Jr. and Connor Cleveland, involved in an incident on lap five. "When I saw the 22 (Hartman) and the 09 (Cleveland) wreck, I just told myself to be patient," said Calabrese after the race.
Luke Horning took advantage of a number of cautions to come away with his third victory of the year in the 25-lap pro stock feature. Horning started 13th and could only watch from a distance as Jason Meltz dominated the early part of the race. Helped by restarts, Horning moved into second on lap 13 and then took the lead on lap 21 when Meltz became trapped behind the lapped car of Ricky Duzlak, giving Horning an opportunity to pounce. Horning and Meltz made contact in the second turn on lap 22, but raced cleanly the rest of the way. Chad Jeseo crossed the finish line third, with Josh Coonradt fourth and Rob Yetmen, who won the $200 Service Tire Truck Center Dash for Cash, fifth.
Bryce Breault won the 20-lap limited sportsman feature, his first win of the season, and Hunter Sanchez came from last to first to win the 15-lap street stock feature. He started last in the 14-car field, but only needed four laps to get to the front.
Steve Ryan won the four-cylinder feature, driving a single-cam car, while Jeffrey Tubbs was second overall, and had the first dual cam car across the finish line. The next three spots all belonged to dual cam cars, as Joey Morey was third and Brandon Ely nipped Damian Ward at the finish line for fourth.
The DMA USAC midgets made their annual stop at the Malta speedway, with Will Hull pulling away from Justin Phillips for the win in the 25-lap feature. Hull used a restart on lap 23 to finally get some breathing room over Phillips, who had started last in the 15-car field.
MODIFIEDS: Marc Johnson, Matt DeLorenzo, Peter Britten, Mike Mahaney, Stewart Friesen, Danny Varin, Rocky Warner, Jackie Brown Jr., Jack Lehner. Ken Tremont Jr., Keith Flach, Jessey Mueller, Anthony Perrego, Ronnie Johnson, Don Ronca, Elmo Reckner, Adam Pierson, Derrick McGrew Jr., Tyler Dippel, CG Morey, Neil Stratton, Brian Berger, Ricky Davis, Todd Stone, Rick Ronca, Matt Pupello, James Meehan, JaMike Sowle, Matt Depew, Bobby Hackel IV.
SPORTSMAN: Brian Calabrese, Dylan Bokus, Nick Scavia, Ron Proctor, Robert Bublak, Tim Hartman Jr., Justin Buff, Jim Nagle, Dan Grignon, Jack Speshock, Justin Stone, Pat Jones, David Boisclair. Nick Lussier, Daryl Nutting, Mike Coffey Jr., Connor Cleveland, Travis Bruno, Larry Niemiec, Dave Baranowski Jr., Tommy Proctor, Thomas Van Vorst Jr., Andrew Buff, Cody Ochs, Jon Miller, Scott Duell, Bill August, Stephen Kneer, Jeff Washburn.
PRO STOCKS: Luke Horning, Jason Meltz, Chad Jeseo, John Coonradt, Rob Yetman, Dean Charbonneau, David Emigh, Jay Fitzgerald, Jordan Modiano, Ricky Duzlak, Mike Baker, David Cook, Kim Duell, Scott Towslee, Jason Morrison, Tony Markou, Dan Madigan.
LIMITED SPORTSMAN: Bryce Breault, Tyler Rapp, Kevin Groff, Taylor Wason, Brandon Jacobson, Garrett Poland, Ron Delease Jr., Craig Wholey, Tommy D'Angelo, Dylan Madsen, Ryan Neiger, Travis Witbeck, Shane Larman, Jon Coon, Joe Smith, Chris Bisson, Yule Cook, Scott Bennett, Johnny Bruno, John Santolin, James Hinman Jr., James Venditti.
STREET STOCKS: Hunter Sanchez, Al Relyea, Jeff Meltz, Mark Burch, Paul Braymer, Matt Mosher, PJ Cram Jr., Jason Barrett, John Hayes, Harold Chadderton, Jacob Zennaiter, Josh Hemming, Kaleb Shepard, Tim McFarland.
DMA USAC MIDGETS: Will Hull, Justin Phillips, Seth Carlson, Melvin Pierson, Joe Krawiec, Brandon Piastka, Manny Dias, Jeffrey Horn, Justin Sheridan, PJ Bleau, Jeremy Hodge, Michael Netishen, Tim West, Floyd Billington, Jeff Champagne.
http://albany-saratogaspeedway.com/friday-august-14-2020-results/
##
Posted: to Racing News on Sat, Aug 15, 2020
Updated: Sat, Aug 15, 2020