Renaud Takes First Career Checkers
Puts BFR Chassis Street Stock in Victory Lane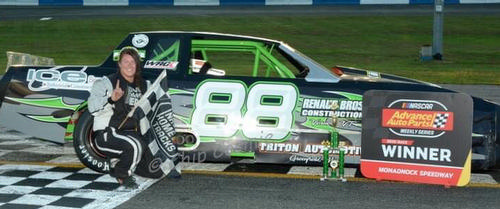 Robie Tops Mods, Renaud wins first in streets July 18 at Monadnock Speedway
By Gary Dutton, July 21, 2020 - Sentinelsource.com
WINCHESTER — Brian Robie topped a big field of NHSTRA Modifieds Saturday, July 18, charging from row four to score his first win of the season at Monadnock Speedway. Hillary Renaud, meanwhile, led all the way to earn her first career victory in the ultra-competitive Street Stocks.
And, while Renaud was busy scoring her first victory lane celebration, Late Model Sportsman star Aaron Fellows stayed perfect on the year, using a late-race pass to overcome his strongest challenge of the summer en route to victory lane. Vermont pilot Matt Sonnhalter wired the nightcap 50-lap Mini Stock event.
There are few sounds in life that come close to that made by a big field of Modifieds thundering atop the blacktop in pursuit of Saturday night glory. That thunder is heard weekly at Monadnock Speedway, where, Saturday, Matt Kimball and Rob Richardi led the 18-car Modified field to battle.
Kimball, gunning to turn a season-long hard luck run around, jumped all over the lead as the 40-lapper went green. Richardi stayed glued to his bumper, with defending track king Todd Patnode quickly entering the hunt.
By lap 10, Patnode held the deuce spot, while two-time 2020 winner Ben Byrne was rocketing up to third. Coming from row five, Byrne took the three-spot on lap 14 but he and Patnode's battle would be a short one. Coming quickly onto a cloud of lappers on lap 18, the potent pair came together, ending Patnode's night early for the second week in a row and sending Byrne to the rear.
The turn-one tangle brought Robie alongside Kimball on the restart and, two laps later, he had the point, then dashing off to victory just ahead of the second-generation hot shoe, with Byrne charging back through the pack to finish third on the night. Robie's victory moved him to the top of the points parade.
The Curtis twins, Chase and Jaret, did all they could to keep Hillary Renaud from taking her first career Street Stock victory lap but, on this night, the Vernon, Vt., driver could not be stopped.
Chase Curtis was all over her back bumper for most of the race, sometimes even bumping it, without finding a path to the point, while brother Jaret did the same due diligence in his shadow. With the white flag in the air, Jaret rocketed low through turn two to claim the deuce, then watching Renaud flash under the checkers just ahead of him. Chris Buffone was fourth on the night, and Mike Radzuik rounded out the top five.
Cole Littlewood did something Saturday that nobody else had accomplished so far this season, outrun Aaron Fellows for 21 laps in the LMS feature. Piloting the Steve Brehio ride, Littlewood kept Fellows in his shadow until the Croydon pilot took a wheels-length advantage on lap 22, and then soared off to victory.
Robert Hagar powered into second on the white flag lap, with Littlewood completing his strong night's work in third. The victory was Fellows' second of the weekend and kept him undefeated this season.
Matt Sonnhalter was in the house Saturday to hunt for victory in the 50-lap Mini Stock main event, the first leg of the regional 2020 Battle for The Belt series. And while the speedway's weekly racing series drivers did well, nobody could catch the speedy Sonnhalter.
Nathan Wenzel and Jared Soucy were frequently closest to Sonnhalter, but it was 2019 track champ Louie Maher II who came closest at the end. Firing from way back in row eight, Maher methodically charged forward, getting past potent Gordon Farnum late to claim the runner-up hardware. Farnum's third place run moved him back atop the home track points parade.
On Saturday the thundering NEMA Midgets and NEMA Lites will join the Monadnock Speedway weekly racing series divisions for an exciting night of racing on the high banks. For more information, please visit www.monadnockspeedway.com.
July 18 Top Tens
NHSTRA Modifieds: Brian Robie, Matt Kimball, Ben Byrne, Trevor Bleau, Anthony Bello, Solomon Brow, Rob Richardi, Kimmy Rivet, Keith Carzello, Kevin Pittsinger.
Mini Stock (50-lap Battle for The Belt): Matt Sonnhalter, Louie Maher II, Gordon Farnum, Dan Sweeney, Nathan Sweeney, Kevin Clayton, Bill Chaffee, Josh Hubbard, Tim Leblanc, Jeff Asselin.
Street Stock: Hillary Renaud, Jaret Curtis, Chase Curtis, Chris Buffone, Mike Radzuik, Chris Riendeau, Tim Wenzel, Bryan Granger, Paul Barnard, Ben Williams.
Late Model Sportsman: Aaron Fellows, Robert Hagar, Cole Littlewood, Camdyn Curtis, Justin Littlewood, Willie Kuhn, Nancy Muni-Ruot, Chris Ballas, Scott Beck.
Posted: to Racing News on Wed, Jul 22, 2020
Updated: Wed, Jul 22, 2020