Congratulations to Mike O'Sullivan
Granite State Pro Stock Series Champion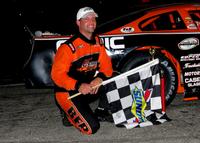 Pennink Makes Late Race Pass For World Series NWMT Victory
Thompson, Conn: The Sunoco World Series of Auto Racing presented by Xtra Mart was highlighted by an exciting NASCAR Whelen Modified Tour finish that saw Rowan Pennink drive to victory lane and Ryan Preece earn a solid third place finish to earn the series championship. Other feature winners on the final day of the World Series were Kerry Malone in the Sunoco Modified Series, John Zych, Jr. in NEMA midgets, Ben Seitz in ISMA action, and Larry Gelinas in the Granite State Pro Stock Series.
Rowan Pennink used a late-race pass on lap 133 to take the lead and eventual win in the Sunoco World Series 150 presented by Xtra Mart Sunday afternoon. The victory was Pennink's second win in the series. Ryan Preece's third place finish secured the 2013 NASCAR Whelen Modified Tour Championship for the driver, who becomes the youngest champion in series history at 22 years, 11 months and 25 days old. The championship also marks the second title for Flamingo Motorsports. The team previously won with driver Mike Stefanik in 2006.
Bobby Santos led Justin Bonsignore and Mike Stefanik at the start of the 150-lap event. Doug Coby brought out the first caution on lap four after spinning in the middle of turns one and two. Coby was then penalized a lap for pulling up to pit too soon.
Santos continued to lead on the restart with Pennink moving up to second and Mike Stefanik in third. Santos showed no signs of wavering and held strong out front until caution at lap 38 slowed him down. The caution was brought out when Rick Fuller spun into the front stretch inside retaining wall.
Pennink made a bid for the lead on the restart, but is challenge allowed Matt Hirschman and Mike Stefanik to go by for second and third respectively. Santos pulled ahead to a comfortable lead over Hirschman for several laps, but Hirschman reeled him back in and used the bottom groove to go by for the lead on lap 66.
Caution came out on lap 70 for Woody Pitkat and saw Hirschman come down pit road to pit. Santos assumed the lead for the restart, which quickly went back to yellow. The top-three - Santos, Stefanik, and Ted Christopher - elected to stay out rather than pit.
Santos beat Christopher into turn one for the lead on the restart as Christopher and Ryan Preece battled it out for third. After a side-by-side battle with Christopher, Preece took the position and set his sights on Stefanik. He looked to the high groove and then shot down low to drive by for second on lap 83.
Santos held off Preece on the restart following a quick caution period, but Preece was persistent and, on lap 92, drove to the bottom heading into turn three and took over the lead. Two separate incidents on the track brought out a caution at lap 98, but Santos still opted not to pit. He finally came down during a caution at lap 103.
Preece, Donny Lia, Ron Silk, Justin Bonsignore, and Pennink made up the top-five for the restart at lap 109. The field strung out single file with Preece holding strong out front. Caution slowed the pace and put Preece and Lia side-by-side for a restart at lap 123. Lia got the advantage and took over the lead going into turn three.
Preece and Lia continued to battle and got door-to-door on lap 127, but Pennink wanted a piece of the action and moved in to the mix. Lia retained the lead with Pennink taking over the second spot after all the dust had settled.
Lia drove to the front on a lap 133 restart with Pennink up to second. Pennink passed Lia for the lead on the following circuit and pulled away to a three-car length advantage. Pennink continued to pull away as Preece kept Lia busy with his challenges for second. Pennink had a half a straightaway lead as he approached the checkered flag for the coveted World Series victory.
Kerry Malone led every lap en route to the Sunoco Modified Series victory on Sunoco World Series presented by Xtra Mart weekend. Malone's win was no easy feat, however, as he had to hold off a hard charging Preece through countless restarts to make it to victory lane.
Malone took the early lead before caution slowed the pace on lap two. Malone and Preece led the field back into turn one, but it was all Malone off turn two. Preece continued his challenge on the outside groove, but Malone held him off at the line as Preece settled in behind him. Matt Gallo was third as Dennis Perry lost the fourth spot to Woody Pitkat on the fourth circuit. Pitkat climbed into the top-three on lap eight and set his sights on Preece, who was running more than five car lengths ahead in second. Malone was about the approach lapped traffic with his torrid pace, but caution tightened them back up on lap 13.
Malone jumped to the lead when racing resumed but caution flew for a turned car on the front stretch. Malone proved it was no fluke as he repeated his performance and drove straight to the front, but not a single lap was put in the books before a caution was out yet again. Malone drove to the front through three more starts and finally completed lap 14 as the leader over Pitkat and Keith Rocco. Preece, who was running second prior to the green flag, dropped to the tail end of the field for the restart and made his way back up to eighth by lap 18 when caution came out.
Malone continued his strong restarts when racing resumed, but the race quickly went under red flag conditions when Shelly Perry flipped her machine in turn four. Perry walked away from the incident. Malone continued his dominance as a three-wide battle developed for the third spot that included Rocco on the outside and Preece on the inside. The top-three on lap 22 was Malone, Pitkat and Preece. A spun car slowed the pace with 24 laps complete, but it could not stop Malone's momentum. Preece got a run on Pitkat coming out of turn three of lap 27 and took over the second spot.
Malone and Preece battled it out into turn one after caution set them up for another restart, but it was Malone who came out on top coming out of turn two. Preece was looking for a way around when a multi-car crash halted the action yet again. A four-car tangle developed in turn one on the following restart and forced officials to call for a single-file restart in an attempt to get the race concluded.
Malone led Preece and Pitkat by a mere half a car length as the field went single-file around the track to the checkered flag.
John Zych, Jr. wrapped up the 2013 NEMA Championship with a convincing victory in the NEMA portion of World Series weekend. It was Zych's fifth win of the season.
Avery Stoehr jumped to the early lead and pulled away to a commanding lead before caution waved for Bethany Stoehr. Todd Bertrand shared the front row for the restart, but Avery Stoehr shot right back out front at the drop of the green. Bertrand reeled him in and challenged coming off of turn four on lap four. The two made contact and Stoehr got sideways bringing the caution out. Bertrand and Greg Stoehr took the field down into turn one, but Bertrand shot to the top spot and pulled away to a five-car length advantage. Bobby Santos took over second on lap five with Zych in third.
Caution for a spun Avery Stoehr flew after eight laps. Bertrand took the lead on the restart, but Zych used the bottom groove to slide by Santos for second. Bertrand maintained a comfortable lead over the next several laps, but caution on lap 13 would close that up quick. During the caution period, officials threw the black flag for Bertrand. After checking his vehicle on pit lane, officials gave him the lead back for the restart.
Bertrand took the lead in turn one, but Zych fought back and the duo went side-by-side down the backstretch and through the third turn. Coming out of turn four Bertrand got a slight advantage to keep the lead at the line, but the battle continued for a full circuit more. On lap 16, officials threw another black flag for Bertrand and hand the lead to Zych.
Zych and Randy Cabral made up the front row for the restart with Zych driving to the front at the drop of the green. Once out front, Zych pulled ahead by a full second over Cabral. Santos was in third. Zych continued to extend his lead until caution tightened the field up again.
Zych jumped to the lead, but Cabral charged to his rear bumper in turn three. Cabral's challenge didn't stick, however, and Zych pulled away to a commanding lead to take the checkered flag. Santos made a late-race bid and took over second before taking the checkers.
Ben Seitz nailed down his third win of the 2013 season when he passed Chris Perley for the lead with only two laps remaining in the ISMA 50-lap feature event. Lou Cicconi wrapped up the series title.
Mark Sammet led Seitz coming out of turn one and two at the start and the duo immediately pulled away from the rest of the field. Tim Ice rounded out the top-three. A caution on lap six tightened the field up with Sammet leading them to green. The man on the move was Perley, who used the inside lane to advance to the third spot. His progression was slowed by a caution, but once racing resumed, Perley was back on the move. He took over second in turns one and two on lap eight and the lead in three and four. Caution flew when Jeff Locke spun to the infield grass on the front stretch. Perley held strong through three more restarts followed by Seitz and Cicconi.
Cicconi had his hands full with Jon McKennedy as a stretch of green flag action got underway. Up front, Perley was maneuvering through lapped traffic half-a-straightaway ahead of Seitz. At the halfway mark it was Perley, Seitz and Cicconi.
A caution period did not slow Perley's momentum and he maintained his lead at the drop of the green. Seitz kept Perley in sight and began to reel him in when the caution came out yet again.
Seitz reeled in Perley to less than five car lengths as the race wound down. Two laps before the conclusion, Seitz used the bottom groove to get alongside Perley on the backstretch. Coming out of turn four, Seitz took the lead and pulled away from Perley by five car lengths at the checkers.
Larry Gelinas picked up his first career Granite State Pro Stock Series victory after dominating the 50-lap affair that was only slowed by one caution. Mike O'Sullivan's runner-up finish secured the Granite State Pro Stock Series championship.
Bradley Babb took the early lead but spun on the first lap. On the restart, Larry Gelinas took the point over Mike O'Sullivan and pulled away to a convincing five-car lead. Tommy O'Sullivan, Jim Banfield, and Louie Mechalides rounded out the top-five. The field strung out single file with Gelinas extending his advantage lap after lap. He began to put the tail end of the field a lap down when a long green flag run ensued.
No one could touch Gelinas as he soared to the checkered flag on one of the biggest weekends of the year.
ISMA FEATURE FINISH (Top-8): 1. Ben Seitz, Bourne, MA; 2. Chris Perley, Rowley, MA; 3. Alison Cumens, Lydell, PA; 4. Lou Cicconi, Aston, PA; 5. Eric Lewis, Solvay, NY; 6. Mark Sammut, London, Ont; 7. Tim Ice, Seville, OH; 8. Moe Lilje, Vickery, OH;
SUNOCO MODIFIED FEATURE FINISH (Top-10): 1. Kerry Malone, Needham, MA; 2. Ryan Preece, Berlin, CT; 3. Woody Pitkat, Stafford Springs, CT; 4. Dennis Perry, Pawcatuck, CT; 5. Kyle James, Ashaway, CT; 6. Keith Rocco, Meriden, CT; 7. Matt Galko, Meriden, CT; 8. Michael Gervais, Southbury, CT; 9. Matt Gallo, Berlin, CT; 10. Dave Salzarulo, Monson, MA.
NEMA MIDGET FEATURE FINISH (Top-10): 1. John Zych, Jr., Mendon, MA; 2. Bobby Santos, Franklin, MA; 3. Randy Cabral, Kingston, MA; 4. Russ Stoehr, Bridgewater, MA; 5. Greg Stoehr, Bridgewater, MA; 6. Alan Chambers, Atkinson, NH; 7. Paul Scally, Raynham, MA; 8. Bethany Stoehr, Bridgewater, MA; 9. James Santa Maria, Burlington, CT; 10. Kenny Johnson, Bethany, CT.
GRANITE STATE PRO STOCK SERIES (Top-10): 1. Larry Gelinas, Buxton, ME; 2. Mike O'Sullivan, Springfield, MA; 3. Tommy O'Sullivan, Springfield, MA; 4. Jim Banfield, Glastonbury, CT; 5. Louie Mechalides, Tyngsboro, MA; 6. Billy Brady, Marston Mills, NY; 7. Dillon Moltz, Waterford, CT; 8. George Bessette, Danbury, CT; 9. Dennis Maxfield, Fitchburg, MA; Carl Eriksson, Deep River, CT.
WHELEN MODIFIED TOUR FEATURE FINISH: 1. Rowan Pennink, Huntingdon Valley, PA; 2. Donny Lia, Jericho, NY; 3. Ryan Preece, Berlin, CT; 4. Bobby Santos, Franklin, MA; 5. Ron Silk, Norwalk, CT; 6. Max Zachem, Preston, CT; 7. Matt Hirschman, Northampton, PA; 8. Doug Coby, Milford, CT; 9. Todd Szegedy, Ridgefield, CT; 10. Justin Bonsignore, Holtsville, NY; 11. Timmy Solomito, Islip, NY; 12. Chuck Hossfeld, Ransomville, NY; 13. Ron Yuhas, Jr., Groton, CT; 14. Woody Pitkat, Stafford Springs, CT; 15. Keith Rocco, Wallingford, CT; 16. Mike Stefanik, Coventry, RI; 17. Glen Reen, Wilbraham, MA; 18. Jimmy Zacharias, Candor, NY; 19.Jamie Tomaino, Howell, NJ; 20. John Beatty, Jr., Merrick, NY; 21. David Salzarulo, Monson, MA; 22. Wade Cole, Hartland, CT; 23. Ted Christopher, Plainville, CT; 24.Ken Heagy, Calverton, NY; 25. Ed Flemke, Jr., Southington, CT; 26. Eric Goodale, Riverhead, NY; 27. Bryon Chew, Mattituck, NY; 28. Rob Fuller, Boylston, MA; 29.Cole Powell, Mt. Brydges, Ont., Canada.
For more information, visit thompsonspeedway.com
Posted: to Racing News on Mon, Oct 21, 2013
Updated: Mon, Oct 21, 2013