Late Model ace Tim Wenzel Wins His Crown at Monadnock Speedway
Makes It Two Late Model Championships in A Row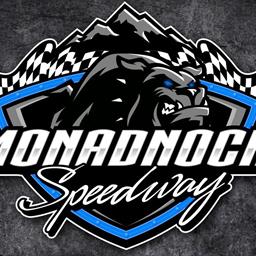 9/18/2023
Monadnock Speedway
---
CHAMPIONS CROWNED SATURDAY AT MONADNOCK 2023 SEASON FINALE
Five track champions were crowned Saturday – Nate Wenzel and Michael Yeaton both first timers – as Monadnock Speedway closed out it 2023 racing season on Championship Day at the high-banked quarter-mile.
Late Model ace Tim Wenzel won his crown for the second season in row, Louie Maher is now a two-time king of the Mini Stocks, and then there's Chris Davis. Davis ran a conservative race Saturday to wrap up his fourth Pure Stock title, those along with a Mini Stock championship to boot.
Cole Littlewood and Geoff Rollins led the swarming 19-car NHSTRA Modified field to the green Saturday, with the 100-lapper not only deciding the 2023 track championship, but also contested as the third of four NHSTRA Quest For The Cup races.
Defending track champ Tyler Leary entered Saturday two points ahead of Nate Wenzel, while Wenzel sat atop the Quest leaderboard. Others, including Rollins, were in the Quest hunt too, a battle that will be decided at Lee.
Leary took the lead from Rollins on lap three but, seven circuits later, it was open-wheel rookie Scott Zilinski at the point, his mirror soon filled by Trevor Bleau's ride and, just behind that, JT Cloutier's.
Bleau took charge on lap 19 but his stay up front was brief, as Cloutier had the lead three laps later. In front, he'd open a huge lead until a lap 43 caution – one of a dozen on the afternoon – brought the pack back to his bumper, and Zilinski to his side.
Getting the jump, Zilinski began his second run at the head of the class on lap 44, again with some major thunder at his back bumper. Wenzel, his nostrils filled with the warm aroma of a pending championship, took over on lap 74, and he never looked back.
When Leary and Zilinski made contact in turn three five laps later, the title chase was over. Cloutier, who'd survived an unnecessary bouncing off the frontchute wall back on lap 59, got back up for second on the 80th go-round, then following Wenzel under the checkers to conclude his own successful season.
With Wenzel earning his first NHSTRA track Modified crown, and solidifying his point lead in the Quest chase, he joined his younger brother, Tim, in celebrating their 2023 sibling Monadnock championships With Cloutier strong in second, Kimmy Rivet, who earlier this summer survived a horrific crash, ended her summer on the podium with a third-place finish.
Rollins, who struggled through a largely forgettable Saturday afternoon, made masterful use of ne fewer than four trips to the pits to stay on the lead lap and finish fourth, keeping his Quest hopes alive for the series' finale next month.
Tim Wenzel, as his brother Modified hot shoe Nate would do later in Saturday's event, closed out his championship summer with an exclamation point, romping to his track-high sixth victory of the summer in the Late Model main.
Taking the lead from Andrew Brousseau on lap 19, Wenzel never looked back. Brousseau, though, didn't fare as well. Picked off by a lapper with three to go, he finished fifth on the day. Hillary Renaud concluded her successful summer in second, and Claremont's Dylan Zullo used a last-lap pass to earn the third-place hardware.
Cameron Sontag rocketed to his third win in a row in the Mini Stock feature, taking the lead from Louie Maher with two laps to go. Maher, though, offered little resistance, riding his runner-up finish to the 2023 championship. Pat Houle, in his strongest run of the summer, came home third.
Colton Martin, trading rides for the day with Andrea St. Amour, blew the field away to win Saturday's Pure Stock feature. Chris Chambers, in St. Amour's team car, was second, and Zach Zilinski earned the first of his two Championship Day trophies in third.
Chris Davis, who'd seen a title slip away from him in last year's season finale, stayed clear of trouble Saturday, cruising home in fifth to add another championship trophy to his large collection.
Zach Zilinski wired the Six Shooter feature to win his second in a row. Steve Miller Jr. stayed glued to the 16-year-old pilot's bumper to finish second, while Michael Yeaton's third-place run netted him the 2023 championship.
Markus O'Neil led all the way to score his second Young Gun victory of the year Saturday. He had four-time winner Owen Zilinski draped all over him for most of the way but never faltered en route to victory. Addison Brooks came home third.
Oval-tracker Cole Littlewood, aboard the family Honda, won Saturday's Spectator Race finale, stealing the win out of the last turn from Xander Stillwell.
Saturday's 2023 Championship Day event concluded Monadnock Speedway's 2023 racing season. The high-banked speedplant will take on a new and improved look in the coming weeks, as it receives an entirely new racing surface, its first since the initial paving was completed a half-century ago.
---
Submitted By: Michelle Cloutier
Posted: to Racing News on Tue, Sep 19, 2023
Updated: Tue, Sep 19, 2023