Tyler Leary Rockets to 2nd Modified Win of Season
Defending Champ Takes over Point Lead at Monadnock Speedway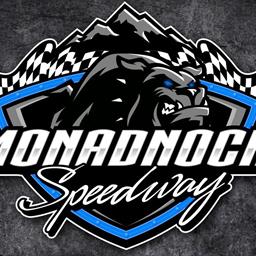 9/11/2023
Monadnock Speedway
---
STOCKWELL WINS FIRST LATE MODEL MAIN SATURDAY AT MONADNOCK
WINCHESTER, N.H. – Freshman Late Model star JD Stockwell scored the first LM victory of his career Saturday at Monadnock Speedway. Racing in support of the headlining NASCAR Whelen Modified Racing Series, the 16-year-old hot shoe led the final 18 laps to earn the coveted victory lap at the Winchester Fair event.
With only a single event remaining in the 2023 Monadnock racing season, defending NHSTRA Modified kingpin Tyler Leary rocketed to his second win of the summer and, with it, back to the top of the points parade, where he now sits with a thin two-point advantage over four-time winner Nate Wenzel.
Andrea St. Amour blasted to her second Pure Stock win of the season – her first came on August 12 – while Chris Davis could only muster a ninth-place outing Saturday but it was good enough to move him to a 20-point advantage over Colton Martin entering the season finale.
In the Mini Stocks, Sterling, Mass. pilot Cameron Sontag faces an uphill battle as he attempts to overtake Louie Maher in the title chase, but he'll still enter the final race of the summer in style after storming to his second win in a row Saturday.
While Justin Bonsignore earned the night's biggest prize, topping the headlining JDV Presents Winchester Fair NASCAR Whelen Modified Series 150-lap main event ahead of Austin Beers and hometrack hot shoe Sammy Rameau, and Doug Coby's fifth-place run – coupled with his Duel at The Dog victory here earlier this season – earned him the Whelen Granite State Short Track Cup, no one went home happier Saturday than JD Stockwell.
The young star, who'd won the Pure Stock championship here a year ago, while only 15, capped a series of strong runs this summer with his first career Late Model win Saturday. He took the lead from Erik Smith on lap eight in the evening's nightcap event and then outran five-time winner Tim Wenzel to earn the win. Robert Hagar was third on the night.
Kimmy Rivet led the first 17 laps of the NHSTRA Modified feature, then giving way to 2022 champ Tyler Leary. The popular Antrim pilot, in fact, was headed to a season-best second, when there was contact on lap 37 causing her to spin.
JT Cloutier, himself a victim of earlier contact while running third on lap 16, continued his breakout season by charging back through the field to finish at Leary's bumper for a season-best second Saturday. Cole Littlewood impressed in third.
Cameron Sontag grabbed the top spot in Saturday's Mini Stock feature on lap ten and quickly drove away to win for the second week in a row. Kevin Clayton, a force all summer, was second, and two-time winner Bob Williams came home third.
Former track champ Louie Maher struggled Saturday, but will still take a 24-point lead over Cameron Sontag into next week's season finale.
Andrea St. Amour led all the way in the caution-free Pure Stock 25-lapper, scoring her second win of the summer on the high banks. Adrian Smith, competing as a Young Gun just a few short weeks ago, powered to a career best second, with Zach Zilinski finishing at his bumper in third.
Chris Davis had the most satisfying ninth-place finish of his long career Saturday, as his top points foe Colton Martin suffered an even more disappointing night, finishing in the infield for 16th on the night.
In a battle of Pro 4 Modified royalty Saturday, Rob Richardi took the lead on lap three and led the rest of the way with Doug Meservey draped all over him. Finishing at Meservey's bumper, Jack Dumas came home third. Back on August 12, Meservey held Richardi in his shadow to score the Monadnock victory.
Gerard Giordano Jr., always a force here on the high banks, scored a Pro Truck Series 55-lap victory Saturday. Nick Frechette was second under the checkers, and Randy Burr was third.
Monadnock Speedway will conclude its very successful 2023-racing season next Saturday, September 16, with a full card of racing and many extras. Post time for this special event is 2 p.m.
---
Article Credit: Gary Dutton
Submitted By: Michelle Cloutier
Posted: to Racing News on Wed, Sep 13, 2023
Updated: Wed, Sep 13, 2023