Congratulations to Gerry Degaspare, Jr.
Wins 7th Late Model Championship in BFR Chassis at Seekonk Speedway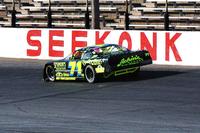 BATTLE TO LILLIE, WAR TO DEGASPARRE IN LATE MODELS
On Sep 22, 2013
Rookie sensation Branden Dion was right where he wanted to be with a green-white-checker in store: on the pole. But Jeramee Lillie was in the same frame of mind: he had the outside pole. The duo entered the starteing box with the green flag flying and "The Hammer" dropped the hammer, blasting past Dion and into the lead going into turn oneby a fender. They battled around the penultimate lap and down the front into the final stanza. Lillie pushed ahead enough to drop into the lead in the first turn and rocketed through to take the win on the final regular-season race. Dion was two tenths of a second back, with Ryan Lineham on his tail, followed by Charlie Rose, also finishing on the same second as the leader. Mark Hudson rounded out the top five, just a second off the pace.
And it was the latest jewel in the crown of divisional champion Gerry DeGasparre, Jr, who nabbed sixth, despite starting at the back following the lap-28 collision which brought out the restart. DeGasparre made history and set a new record for Seekonk Speedway: seven championship seasons. He had previously been tied at six with Vinny Annarummo and Fred Astle, Jr. DeGasparre, in post-race interview with announcer Kevin Boucher was effusive in his praise for all those who had brought him to his latest triumph.
It had been an arduous, caution-filled, 30 laps – ten miles of hard racing and numerous cautions, eight in all.
Mark Hudson came off the pole past Branden, who was in the Bill Bernard team car which he had just purchased – the car which had won the previous week's "Crab" Manchester Memorial Race with Ryan Vanasse behind the wheel. Ryan Lineham jumped forward from low on the second row to get under Dion who had Dillon Moltz on his bumper. Dave Hutchins was working below Lillie
Trouble waited on the backstretch of lap two as Bobby Pelland III leapt forward just before the turn into DeGasparre's rear, sending him around.. Dylan Estrella and Charlie Rose, immediately behind, got together trying to avoid. Estrella was headed for the mid-curve wall but executed some masterful maneuvers to avoid. Still he heded up with his side pushedin deeply from the car-to-car impact. Pelland was assessed the assist and joined the accident cars at the rear.
On the restart, Hudson and Dion ran door-to-door as did Lineham and Moltz and Lillie and Hutch behind them. Bernard moved into seventh. Vinny Arrenegado spun, gathering in Estrella, who this time had to visit the pit area, trailing smoke from his right rear as he departed.
Hudson and Dion battled away from the green flag, with Hudson running ahead but Dion battling back. They battled wheel-to-wheel for three laps, then Moltz looked underneath as he saw Hudson begin to fade. But Hudson got down in front of him. A second attempt put Moltz on Dion's rear bumper and under Hudson with Bernard and Lillie in pursuit. Bernard then worked under Hudson on lap eight. He nabbed third as Rose fought under Lillie seeking fifth. But Estrella and Scott Dion spun in turn one on lap 12.
Moltz was outside Branden for the restart with Bernard and Hudson behind them. It was door-to-door from the box, but Moltz found the front out of turn two after a lap of close racing. Bernard held third with Lilie and Hudson in pursuit. Pelland then got past Hudson, followed by DeGasparre and Rose got underneath Hudson. Hutch moved under as Rose went forward
Lap 20 saw Pelland under Lillie and Hudson able to settle in behind Rose. As DeGasparre moved under The Hammer, Rose spun of turn four.
Moltz and Bernard took the green with Moltz going ahead, but Hutchins looped into turn four, bringing another restart. Moltz found his motor funning but not responding to the throttle and had to be pushed to the pits, ending his night.
The second lap 21 restart saw Bernard facing Brandon on the outside in his former car. As Bernard went forward, Pelland came in under Brandon as DeGasparre and Lillie were side-by-side behind them.
As Bernard led Pelland, Branden, DeGasparre and Lillie, DeGasparre got under Branden but Arrenegado and Rose got together in turn four as Rose goi in too deep and too hot and slid up into Arrenegado.
The Lap 25 restart saw Pelland rocket away as Bernard did not accelerate and the field was called back for another go. This time, Bernard got a nose ahead but Pelland battled alongside for a lap before Bernard took the front on the next crossing of the stripe. DeGasparre got in under pelland and then took second. Branden and Lillie followed.
Bernard and DeGasparre were alongside as Pelland leapt in to make it three wide as Bernard suddenly slowed as his fuel ran out and Pelland got into DeGasparre going into turn one. They stayed together until they slowed to a stop. Pelland had his number taken down for the night by the race officials.
This brought out the green-white-checkered which concluded the event. Following DeGasparre across were Arrenegado, Scott Dion, and Robert O'Connell. Tenth went to Bernard, in the pits with a dry tank.
For more information: contact www.seekonkspeedway.com
Posted: to Racing News on Sun, Sep 22, 2013
Updated: Mon, Sep 23, 2013