Gentes Makes it Two in a Row in Late Models at Thompson Speedway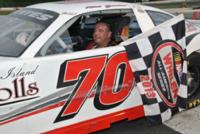 Rocco Checkers Exciting Sunoco Modified Feature
Gentes, Baxter And Dutch Pick Up Wins
Thompson, CT: Rain put a damper on the Thursday Night Thompson Thunder program when track conditions forced the postponement of the Lite Modified and Limited Sportsman features until a later date. Keith Rocco, Rick Gentes, and Joe Baxter picked up feature wins in NASCAR Whelen All-American Series action while Darryl Dutch was the victor in a special 15-lap Outlaw Antique Racer's feature.
Keith Rocco doesn't let a wrist injury stop him from visiting victory lane at Thompson Speedway. Rocco took the lead on lap nine of the Sunoco Modified feature and held off Woody Pitkat and Ryan Preece in an exciting finish to the 30-lap feature that was slowed for rain three times.
Nick Boivin and John Catania brought the field to green with Boivin pulling out to the lead coming out of turn two. Paul Newcomb, Kerry Malone, and Pitkat rounded out the top four when the dust settled. Boivin pulled ahead to a solid lead as Rocco, Malone, and Newcomb went three wide for the second spot behind him. Rocco took the position and relegated Newcomb back to sixth with Malone holding on for third. Preece and Pitkat rounded out the top five. Boivin continued to extend his lead as second through fifth went nose-to-tail before caution came out at lap nine.
Rocco shot to the lead on the restart as Boivin got hung up on the outside groove and dropped back to sixth before getting back in line. Malone and Pitkat rounded out the top-three. The front-runners were running nose-to-tail when caution reemerged at lap 12 and slowed their pace, but it was Rocco once again to the lead when the green dropped. Pitkat went low to challenge Malone for the second position and completed the pass successfully coming out of turn one on lap 13.
Pitkat closed in on Rocco, and dove underneath him on lap 16 heading into turn three for the lead. Rocco returned to the front on the following circuit, however, as Pitkat kept the pressure on. Their momentum came to a halt on lap 19 when Boivin hit the wall in turn two and brought out the caution for an extensive clean up.
Caution was extended for rain, but the race resumed with Rocco right back out front and Pitkat and Preece attached to his bumper. Pitkat dove to the bottom on lap 24 and got side-by-side with Rocco before pulling ahead by a nose length out of turn two. Preece kept on the battling duo's bumpers just waiting for a mistake. Rocco wasn't about to settle in, however, and continued to fight on the outside groove before diving to the bottom of Pitkat on lap 26. The two fought door to door with Preece dropping to the bottom to go three-wide coming out of turn four of lap 27. Rocco reclaimed the lead coming out of turn two with Pitkat taking the white flag in second. Preece continued to keep the pressure on, but it was all Rocco at the checkered flag.
Rick Gentes recorded his second straight victory in Thursday Night Thompson Thunder Late Model action. Gentes was patient in moving to the front and took the lead at lap 13 before setting a pace that couldn't be matched. Damon Tinio and Chad LaBastie went into turn one side-by-side at the drop of the green, but it was LaBastie with the advantage coming out of turn two. Marc Curtis, Jr., meanwhile, took the high line to challenge Tinio and drive by for the second spot before everything settled down. Curtis set his sights on LaBastie and filled his rear-view mirror before dropping to the bottom to challenge on lap three. Curtis and LaBastie were dead even as they went through the turns with Curtis having the lead by inches at the line with five laps complete. LaBastie held the advantage the next time around, but it was all Curtis at lap seven as he pulled ahead and settled comfortably out front with a two car length lead. LaBastie shifted his focus to Gentes, who challenged on lap nine in turns three and four. Gentes was able to take over the second position before LaBastie spun in turn four and brought out the caution at lap 11.
On the restart, Curtis got out in front ahead of Gentes and Tinio, but Gentes quickly knocked him from the point and took over the lead. Gentes and Curtis had a considerable lead over Tinio with Gentes showing no signs of wavering as the laps ticked off. Gentes drove straight to the checkers with ten car lengths over his closest challenger and runner-up finisher, Marc Curtis.
Darryl Dutch proved his victory from last season was no fluke as he took the lead at lap six and never looked back en route to the checkered flag in the 15-lap Outlaw Antique Racers feature. Tom Cerroni jumped ahead of Ed Mulligan at the drop of the green to take the early lead, but Mark Alden quickly knocked him from the point to lead on lap two. Dutch dropped to the bottom groove coming around turns three and four to challenge for the lead on the second circuit, but Alden held him off. Dutch tried again on the following lap and had a nose length advantage heading into turn three, but once again, Alden held him off and maintained the lead. Three times is a charm, however, and Dutch finally got the momentum he needed to take the lead on lap six and pull away to a commanding lead. Dutch went to the checkers unchallenged for the victory.
Joe Baxter picked up right where he left off at the end of the 2012 season – in victory lane. Baxter held off Shane Michalski to capture his second career Monster Mini Stock victory. Michalski drove to the front at the start of the feature with Baxter close behind. On lap two, Baxter took the bottom groove to challenge for the lead and held a nose length advantage coming out of turn two. Michalski tried to hold him off, but Baxter had the advantage at the line. Baxter pulled out to a comfortable lead as Michalski worked the high groove to try and hold off Louie Bellisle for the second spot. Michalski and Bellisle took turns in second as they went dead even and side-by-side around the 5/8th's mile. Michalski finally settled into the position by lap 12 and set his sights back on Baxter. Michalski didn't have the momentum to challenge for the lead, however, and Baxter drove to the checkered flag unchallenged.
SUNOCO MODIFIED FEATURE FINISH (TOP 10): 1. Keith Rocco, Meriden, CT; 2. Woody Pitkat, Stafford Springs, CT; 3. Ryan Preece, Berlin, CT; 4. Paul Newcomb, Plymouth, MA; 5. Dennis Perry, Pawcatuck, CT; 6. Tom Abele, Jr., Norwich, CT; 7. Kerry Malone, Needham, MA; 8. John Catania, Ludlow, MA; 9. Jay Sundeen, Douglas, MA; 10. Todd Ceravolo, Gales Ferry, CT.
LATE MODEL FEATURE FINISH (TOP 10): 1. Rick Gentes, Burriville, RI; 2. Marc Curtis, Jr., Spencer, MA; 3. Damon Tinio, Mendon, MA; 4. Joe Curioso III, Mystic, CT; 5. John Lowinski-Loh, Jr., Milford, MA; 6. Glenn Boss, Danielson, CT; 7. Randy Tucker, Millis, MA; 8. Chad LaBastie, Uxbridge, MA; 9. Jared Materas, Palmer, MA; 10. Derryck Anderson, Jr.
OUTLAW ANTIQUE RACERS FEATURE FINISH (TOP 10): 1. Darryl Dutch, Greenville, RI; 2. Mark Alden, Westboro, MA; 3. Ken Banford, Coventry, RI; 4. Scott Quinn, Slatersville, RI; 5. Wes Roach, Jaffrey, NH; 6. Ed Mulligan, Pascoag, RI; 7. Tom Cerroni, Smithfield, RI; 8. Brian Jenik, Norwich, CT.
MONSTER MINI STOCK FEATURE FINISH (TOP 10): 1. Joe Baxter, Pascoag, RI; 2. Shane Michalski, Woodstock, CT; 3. Louie Bellisle, Lisbon, CT; 4. Eric Bourgeois, East Haddam, CT; 5. Scott Michalski, S. Killingly, CT; 6. Dave Trudeau, Mansfield, CT; 7. Leo Defevers, Moosup, CT; 8. Nathan Taylor, Wauregan, CT; 9. Chad Baxter, Pascoag, RI; 10. Mike Viens, Seekonk, MA.
For more information, Contact www.thompsonspeedway.com
Posted: to Racing News on Sun, Jun 9, 2013
Updated: Sun, Jun 9, 2013