BFR Congratulates Tommy O'Sullivan, Late Model Champ and Scott Sundeen, Ltd. Sportsman Champion at Thompson Speedway
Son Jay Sundeen Grabs Checkers in Thompson Modifieds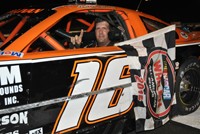 Pitkat Wraps Up Thompson Regular Season with Exciting Sunoco Mod Victory
Gelinas, Tinio, Gleason, McDermott, J. Sundeen & J. Baxter Also Winners
Ramstrom, S. Sundeen & C. Baxter Crowned Champs
Thompson, CT (September 16, 2012): Thompson International Speedway concluded the 2012 regular season with a Twi-Nite Special featuring seven divisions of NASCAR All-American Series action. Woody Pitkat of Stafford Springs, CT, sent the season out in style winning a thriller in the Sunoco Modified regular season finale at Thompson. Larry Gelinas of Buxton, ME, was opportunistic in his Super Late Model feature event win.
It was a commanding victory for Cam McDermott of Scituate, RI, in the Sunoco Lite Modifieds on Sunday night. After tasting a first-career victory a week ago, Damon Tinio added to his tally with his second straight Late Model win.
Jesse Gleason of Lisbon, CT, scored top honors in the Limited Sportsman division.
A top-five finish in the Limited Sportsman division netted Scott Sundeen of Douglas, MA, not only the divisional champions but also a (unofficially) NASCAR National championship. Jay Sundeen capped off a strong night for his racing family with a victory in the TIS Modifieds.
The brothers Baxter were on the top of their game on Sunday at Thompson Speedway. The duo went one-two with Joe winning the feature event. By virtue of his runner-up spot, Chad earned the Mini Stock title. The "Outlaw" Antique racers were also on tap with twin feature events.
Woody Pitkat of Stafford Springs, CT, earned the victory in an action-packed Sunoco Modified main event. Kerry Malone bolted from his second starting spot to take the early lead in the Sunoco Modifieds. He had plenty of company in Ryan Preece, Keith Rocco, Woody Pitkat, and Todd Ceravolo. Pole sitter Dennis Perry quickly faded to sixth. Preece was all over Malone when the caution flew for an incident involving multiple cars in turn two. Malone struggled on the restart losing the lead to Preece. Rocco moved into second relegating Malone to third.
Malone had his hands full with a double-barrel assault from both Pitkat and Ceravolo. Unsuccessful in his bid to uproot Malone for third, he opened the door for Ceravolo. Ceravolo got by Pitkat and then a lap later by Malone. A lap later, Pitkat, too, was able to get by Malone. At the head of the pack, Rocco dogged Preece for the lead. Ceravolo ran in third followed by Pitkat.
During the extended green-flag run, Preece and Rocco were nose-to-tail for the lead. Ceravolo and Pitkat ran similarly for third. Lapped traffic ahead of the Ceravolo and Pitkat tandem allowed Preece and Rocco to extend their advantage as the lead duo. With ten laps to go, Pitkat used a stout move in turn one to grab third from Ceravolo. Perry and Malone were locked in a battle of their own for fifth.
A caution flew for debris in turn four to set up a restart pitting Preece against Rocco with five laps remaining. Preece was strong on the restart taking over the lead once again. Rocco struggled on the restart giving up positions to both Pitkat and Ceravolo.
On lap 27, Pitkat motored by Preece in turn one. Ceravolo began to work over Preece when the caution flew for a spin by Harry Wheeler. The green-white-checker restart gave Preece a shot to grab back the lead and the win.
With the green flag flying, Ceravolo got a run to make it three-wide for the lead. In turn two, Pitkat backed out; leaving Preece to battle with Ceravolo. Entering three, they were three-wide again. Coming out of four, Pitkat came out of the three-wide for the lead. The next lap, Ceravolo slid through the turn taking Preece to the wall. Ceravolo lost the handle on his #16 to bring out the caution.
On the second attempt to finish the race, Pitkat was able to hold the top spot but now with Rocco in second. The caution flew for two separate incidents one on the backstretch that found Kopec hard into the outside wall coming off turn two.
The third time was a charm for Pitkat, who got the advantage on the third attempt at a green-white-checker restart. Rocco made contact with Preece allowing Rocco to run under for the second spot. Pitkat was driving away after a bump-and-run by Preece in attempt to take back second. The two went wheel-to-wheel with Rocco just edging out Preece at the stripe for second behind winner Woody Pitkat. Malone and Perry completed the top-five.
Larry Gelinas of Buxton, ME, watched as the leaders fell to the rear of the field after a late race incident giving him the shot at victory. Derek Ramstrom took advantage of his pole starting position to lead the opening laps of the 50-lapper. Ramstrom had command of the race through a caution on lap 17. After a long clean-up for fluid on the racing surface, there was a change for the lead. On the lap 17 restart, O'Sullivan was the new leader. Ramstrom had Larry Gelinas in tow.
After several laps, Ramstrom began to reassert himself. For a pair of laps, Ramstrom ran alongside of leader O'Sullivan. A spin by newcomer Kevin Gambacorta necessitated the caution again on lap 23. O'Sullivan was again up for the challenge on the restart. Gelinas took chase. Ramstrom again started to pour it on; going door-to-door with O'Sullivan. After several laps, Ramstrom settled back in line, inches from O'Sullivan.
It did not take long for Ramstrom to go back to work to O'Sullivan's inside. Gelinas had the best seat in the house directly behind the battle for the lead. Jim Banfield was making tracks toward the lead pack during the long green flag run.
On lap 38, Ramstrom made his bid for the lead. He got around O'Sullivan on the backstretch. Coming off of turn four contact between the lead duo sent Ramstrom spinning. O'Sullivan was relegated to the rear of the field for his involvement.
The new front row on the restart was Gelinas and Jim Banfield. Gelinas got a great run to motor out to the lead over Banfield. Ramstrom and O'Sullivan were on the move. Both cleared Daryl Stampl. O'Sullivan followed Ramstrom passed Josh Vanada and then Dick Houlihan. With five laps to go, Gelinas led by a sizeable advantage over Banfield, Ramstrom, O'Sullivan and Houlihan inside the top-five.
Ramstrom caught Banfield with two laps to go. Gelinas continued to lead. Over the closing laps, Ramstrom could not muster up a serious challenge on Banfield for second. It was clear sailing for Gelinas to pick-up the 50-lap Super Late Model victory. Banfield finished second ahead of Ramstrom. O'Sullivan and Houlihan rounded out the top five.
Cam McDermott of Scituate, RI, dominated the 2012 season of the LKQ/Keystone Lite Modifieds. He did the same in the final feature event of the season as well. The start of the feature event
featured a three-car battle for the top spot between John Studley, the already-crowned champion McDermott, and Troy Talman. When things shook out it was McDermott leading Studley and Talman. Once out front, McDermott immediately distanced himself from the rest of the top five.
Dylan Kopec had caught the back bumper of Talman. Kopec got alongside Talman on lap nine. The two made contact exiting turn three; sending Talman spinning. Following the restart, it was much of the same with McDermott easily extending his lead over Studley. Kopec began to hound Studley for second. Talman ran in sixth with five laps to go. Kopec was able to drive around the outside of Studley in turn two to take over second.
In the end, McDermott cruised to the victory putting an exclamation point on his championship season. Kopec finished second over Studley. Nick Salva edged out Corey Barry in a late-race battle inside the top-five.
Damon Tinio of Mendon, MA, streaked to victory in the Late Model division. Tinio made his way to the head of the pack early in the race leading a heated battle for second between Glenn Boss, Wayne Coury, and John Falconi. Coury began to fade; losing positions to Boss and Falconi. With Tinio up front Falconi got alongside Boss for second. Ryan Posocco made quick work of Marc Curtis, and Coury.
At halfway, Tinio continued to lead followed by Falconi, who had slipped by Boss, who immediately had his hands full with a charging Posocco. The Thompson veteran held of the advances leaving Posocco to battle the Curtis. After a strong run at mid-race, Posocco settled back in line in the fifth spot.
Once free of traffic, Falconi has chipped away at Tinio's lead. Curtis began to apply heavy pressure to Boss. With two laps to go, Falconi was within a couple of car lengths and Curtis continued to look to the low side for running room beneath Boss. Tinio made it two-in-a-row after taking the victory over Falconi. Boss held back Curtis for third. Posocco rounded out the top-five.
Tom Shea led the way before giving up the top spot in the Limited Sportsman feature event to Corey Fanning. Jesse Gleason immediately went to work on Fanning. There was a new leader on lap four. By the halfway marker, Gleason enjoyed a sizeable advantage over Jason Chicolas. Point leader Scott Sundeen had turned up the heat moving into the fifth position.
Over the stretch run to the checkers Gleason continued to maintain his advantage while Fanning, Steve Kenneway, and S. Sundeen were locked in a heat battle inside the top-five. Fanning was able to nudge ahead in third leaving Kenneway to battle with Sundeen. Gleason streaked to the win over Chicolas, and Fanning. Kenneway held back Sundeen to round out the top five. The fifth place finish secured the 2012 Limited Sportsman championship. The championship secured a Division III NASCAR National
Danny Gamache, Jr. jumped out to a sizable lead in the TIS Modified feature event right from the drop of the green flag. As quick as Gamache had built up his lead, the duo of Chad LaBastie and Jay Sundeen had caught the leader. On lap 6, Sundeen drove LaBastie for second. Sundeen made it look easy as he handily took the top spot away Gamache a single lap later. Sundeen was able to extend his lead as Gamache and LaBastie duked it out for the runner-up position.
Gamache bobbled exiting turn two allowing LaBastie to cruise into second. Previously crowned champion, John Lowinski-Loh, Jr., worked over Gamache to move into third. Lowinski-Loh immediately ran down LaBastie in second. Lowinski-Loh dove to the inside of LaBastie in a bid for second. LaBastie tried the cross-over move but could not keep up his momentum. Jay Sundeen cruised on to take the victory over Lowinski-Loh, LaBastie, Gamache, and Brian Tagg.
The early going of the Mini Stock feature event found a two-car breakaway with Joe Baxter leading Mike Viens. A distance back, Steve Michalski ran in third. With championship implications, Eric Bourgeois moved around Michalski and into third. His nemesis Chad Baxter was battling to stay inside the top five.
An incident involving Nick Anderson brought out the caution erasing J. Baxter's and Viens' lead. It also opened the door for C. Baxter in his chase for the title. On the ensuing restart Viens gave J. Baxter a run at the head of the pack. C. Baxter got a great run on the restart moving from fourth to second taking chase of his brother for the lead.
C. Baxter drove up along side bother Joe. Bourgeois was tight to the back bumper of Joe in third. The two brothers went door-to-door over the final laps. Joe just edged out Chris to win the final point race of the season. Chad held on to take down the title. Bourgeois settled for third and second in the championship chase. Viens and Louie Bellisle III completed the top five.
Super Late Models (Top Ten) Feature Finish: 1. Larry Gelinas, Buxton, ME; 2. Jim Banfield, S. Glastonbury, CT; 3. Derek Ramstrom, Worcester, MA; 4. Mike O'Sullivan, Springfield, MA; 5. Dick Houlihan, Bridgewater, MA; 6. Josh Vanada, Berkley, MA; 7. Daryl Stampfl, Norwood, MA; 8. Kevin Gambacorta, Ellington, CT; 9. Jeff Hartwell, E. Putnam, CT; 10. Ron LaPerche, Pascoag, RI.
Sunoco Modifieds (Top Ten) Feature Finish: 1. Woody Pitkat, Stafford Springs, CT; 2. Ryan Preece, Berlin, CT; 3. Keith Rocco, Wallingford, CT; 4. Kerry Malone, Needham, MA; 5. Dennis Perry, Pawcatuck, CT; 6. Todd Ceravolo, Gales Ferry, CT; 7. Nick Boivin, Belchertown, MA; 8. Richie Gallup, Feeding Hills, MA; 9. Adam Norton, Brookfield, MA; 10. George Wilkinson, Pawcatuck, CT.
Sunoco Lite Modifieds (Top Ten) Feature Finish: 1. Cam McDermott, Scituate, RI; 2. Dylan Kopec, Palmer, MA; 3. John Studley, Framingham, MA; 4. Nick Salva, Prospect, CT; 5. Corey Barry, Plainfield, CT; 6. Troy Talman, Oxford, MA; 7. Shawn Brule, W. Thompson, CT; 8. Harry Wheeler, Stafford Springs, CT; 9. Nikki Ouellette, E. Granby, CT; 10. Eric LeClair, Easthampton, MA.
Late Model (Top Ten) Feature Finish: 1. Damon Tinio, Mendon, MA; 2. John Falconi, Oakham, MA; 3. Glenn Boss, Danielson, CT; 4. Marc Curtis, Worcester, MA; 5. Ryan Posocco, Stafford Springs, CT; 6. Tommy O'Sullivan, Wilbraham, MA; 7. Wayne Coury, Milford, CT; 8. Jared Materas, Palmer, MA; 9. Randy Tucker, Millis, MA; 10. Jeff Hartwell, Putnam, CT.
Limited Sportsman (Top Ten) Feature Finish: 1. Jesse Gleason, Lisbon, CT; 2. Jason Chicholas, Sutton, MA; 3. Corey Fanning, Mapleville, RI; 4. Steve Kenneway, Lowell, MA; 5. Scott Sundeen, Douglas, MA; 6. Chris Bisson, Putnam, CT; 7. Tom Shea, New London, CT; 8. Mike Palin, Dudley, MA; 9. Michael Malbaurn, Sterling, CT; 10. Matt Lowinski-Loh, Milford, CT.
TIS Modified Feature Finish: 1. Jay Sundeen, Douglas, MA; 2. John Lowinski-Loh, Jr., Milford, MA; 3. Chad LaBastie, Uxbridge, MA; 4. Danny Gamache, Jr., Woonsocket, RI; 5. Brian Tagg, Oxford, MA; 6. Glenn Boss, Danielson, CT.
Mini Stock Feature Finish: 1. Joe Baxter, Pascoag, RI; 2. Chad Baxter, Pascoag, RI; 3. Eric Bourgeois, E Haddam, CT; 4. Mike Viens, Seekonk, MA; 5. Louie Bellisle, III, Lisbon, CT; 6. Steve Michalski, Brooklyn, CT; 7. Mike Gorgievski, Auburn, MA; 8. Nathan Taylor, Wauregan, CT; 9. Steve Violette, Canterbury, CT; 10.Alicia Thatcher, Pascoag, RI.
For More Information, visit www.thompsonspeedway.com
Posted: to Racing News on Mon, Sep 17, 2012
Updated: Sun, Sep 23, 2012