Tommy O'Sullivan Scores 2nd Win in BFR LM At Thompson Speedway
BFR Chassis Sweap Top 5 & Jason Sundeen Wins in BFR Thompson Modified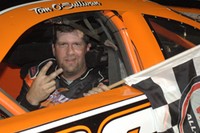 RACE RESULTS – MAY 31, 2012
Ted Christopher, Tommy O'Sullivan, and Jay Sundeen dominated their divisions in Thompson International Speedway's Thursday Night Thunder by leading every lap of their features to claim the first TNTT victory of the season. Ed Puleo and Jim Helger were also feature winners.
Ted Christopher held off a hard-charging Keith Rocco in the 30-lap SK Modified feature. John Catania and Shawn Thibeault brought the field back to green after an accident that collected Woody Pitkat and Andrew Charron stopped the action before the first lap was complete. Thibeault claimed the lead on the outside on the restart after running-side-by-side almost the entire first circuit, but it was Ted Christopher who officially led the lap after a turn four bid. Ryan Preece was coming up quick and moved into the second spot coming off turn two of lap three and used the inside lane to get alongside Christopher on lap four. Keith Rocco and Todd Ceravolo got in line behind Christopher and relegated Preece to the fourth spot. The four cars ran bumper to bumper until lap 10 when Preece took the outside groove to challenge Ceravolo for third. Preece fell back into line by lap 11 as Rocco looked for a way around Christopher. The action remained tight at the halfway mark with Christopher, Rocco, Ceravolo, and Preece still hooked at the bumpers. Rocco looked high and low for a way around Christopher, but the 13 machine held steady. The four cars began to lap the field by the 25th circuit as they set a torrid pace that could not be matched. At lap 28, Ceravolo shook things up by going low under Rocco for a battle that allowed Christopher to get some breathing room and take the checkered flag unchallenged.
Tommy O'Sullivan led every lap en route to a Late Model victory. John Falconi drove to the front at the drop of the green with Tommy O'Sullivan in tow. Falconi held a three-carlength advantage for the first five laps, but O'Sullivan closed in to challenge on the inside at lap six. Falconi shut the door, but had his hands full, and at lap nine, O'Sullivan took the same inside groove to drive by for the lead. Marc Palmisano and Mike Scorzelli battled for third with Scorzelli's bottom lane proving faster. Scorzelli then advanced by Falconi for the second spot and set his sights on the leader, who was a full second ahead. O'Sullivan never let his guard down and never fell off his pace, but instead extended his distance over the rest of the field even through lapped traffic. Scorzelli finished second with Marc Palmisano rounding out the top-three.
Jay Sundeen led flag-to-flag in the Thompson Modified feature after taking the lead from Chad LaBastie at the drop of the green. Glenn Boss moved his way into second on the back of Sundeen's bumper, and put the pressure on immediately. The two ran nose-to-tail while further back in the field, a side-by-side battle between LaBastie and Danny Gamache, Jr. developed for the fifth spot. LaBastie held off Gamache when all eyes turned to Boss at lap seven, who got loose in turn four and saved it, but allowed Sundeen to pull away by a three carlength advantage. At the halfway point, Boss had his hands full with John Lowinski-Loh, Jr., who was putting the pressure on for second. Boss put a carlength of distance between him and Lowinski-Loh, but Sundeen had already pulled way. Boss tried to close in, but it was all Sundeen at the checkers.
Ed Puleo scored his first Limited Sportsman victory of the season after holding off a determined Jesse Gleason in a caution-filled 20-lap feature event. Michael Malbaurn battled his way to the front at the start of the race last week only to be slowed by a lap one caution. When the race resumed, it was Malbaurn to the point with a three-wide battle developing in turn four. Jason Chicolas took over the lead at the start/finish line when things cleared out followed by heat winner Kevin Mason and Jesse Gleason in the top-three. A caution slowed the pace at lap five, and after resuming they had to throw it once more for a three-car accident on the backstretch. Gleason took the lead from Chicolas when racing resumed with Scott Sundeen moving into second before the caution was out again at lap seven. Gleason and Sundeen were side-by-side heading into turn one, but it was all Gleason at the line with eight laps complete. Sundeen reclaimed the lead on a restart at lap 10 while Gleason and Ed Puleo battled for the second position – swapping several times before Gleason went around in turn four and ended in the infield grass. Puleo stayed out front on the restart, but was paired with Chicolas once again after yet another caution flew. Puleo flew to the lead, but Chicolas fought back with a challenge on the outside groove. Gleason made it a three-car battle by ducking underneath Chicolas on lap 18. Puleo never gave him the chance to challenge for the lead, however, and took the checkered flag with a one-car advantage.
Jim Helger won the Mini-Stock feature after his toughest challenger, Damon Fratantonio brought out a caution with a car fire in the closing laps of the 15-lap affair. Fratantonio jumped to the head of the 24-car Mini Stock field with Jim Helger in tow. The duo, separated by a mere carlength, pulled away a half of a straightaway from the rest of the field by the second circuit. Caution tightened the field up at lap six with Helger getting door-to-door with Fratantonio for the lead. The two battled for half a lap before Fratantonio settled it by driving out front. Helger remained on his bumper. Crossing the start/finish line with 12 laps complete, Helger drove to the front on the outside as the leader dropped to the infield with a car fire that had to be extinguished by track personnel. On the restart, Nick Anderson dove to the outside lane and easily drove by Helger for the lead. Chad Baxter and Travis Jurcik followed with Baxter making a bid for the lead that just fell short of the checkers.
SK MODIFIEDS: 1. TED CHRISTOPHER, Plainville, CT; 2. Keith Rocco, Meriden, CT; 3. Ryan Preece, Berlin, CT; 4. Todd Ceravolo, Gales Ferry, CT; 5. Kerry Malone, Needham, MA; 6. John Catania, Agawam, MA; 7. Dennis Perry, Pawcatuck, CT; 8. Wayne Arute, Glastonbury, CT; 9. Shawn Thibeault, Southington, CT; 10. Eric LeClair, East Hampton, MA.
LATE MODEL: 1. TOMMY O'SULLIVAN, Springfield, MA; 2. Mike Scorzelli, Malta, NY; 3. Marc Palmisano, Hadley, MA; 4. John Falconi, Oakham, MA; 5. Randy Tucker, Millis, MA; 6. Robert O'Connell, Jr., Wrentham, MA.
THOMPSON MODIFIEDS: 1. JAY SUNDEEN, Douglas, MA; 2. Glenn Boss, Danielson, CT; 3. John Lowinski-Loh, Jr., Milford, MA; 4. Ryan Morgan, Mystic, CT; 5. Danny Gamache, Jr., Woonsocket, RI; 6. Chad LaBastie, Uxbridge, MA; 7. Brian Tagg, Oxford, MA.
LIMITED SPORTSMAN: 1. ED PULEO, Branford, CT; 2. Jesse Gleason, Lisbon, CT; 3. Jason Chicolas, Sutton, MA; 4. Tom Shea, New London, CT; 5. Chris Bisson, Putnam, CT; 6. Corey Fanning, Mapleville, RI; 7. Bill McNeil, Putnam, CT; 8. Kevin Bowe, Pawtucket, RI; 9. Butch Chamberland, Moosup, CT; 10. Jason Dean, Danielson, CT.
MINI STOCKS: 1. NICK ANDERSON, Oxford, MA; 2. Chad Baxter, Pascoag, RI; 3. Travis Jurcik, Chaplin, CT; 4. Dave Trudeau, Mansfield, CT; 5. Joe Baxter, Pascoag, RI; 6. Eric Bourgeois, East Haddam, CT; 7. Steve Michalski, Brooklyn, CT; 8. Steve Violette, Canterbury, CT; 9. Leo DeFevers, Moosup, CT; 10. Mike Gorgievski, Auburn, MA.
Posted: to Racing News on Fri, Jun 1, 2012
Updated: Wed, Jun 6, 2012