Street Stock Points Leader Tim Wenzel Wins at Monadnock
Gets First Win of Season in BFR Chassis Car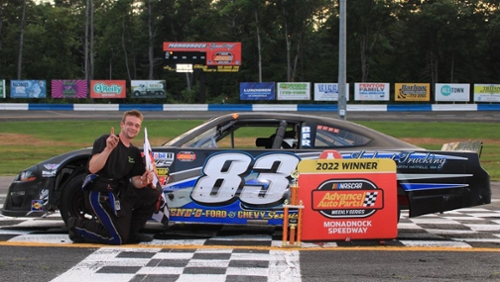 7/4/2022
Monadnock Speedway
---
KIMBALL WINS MODIFIED APEX RACING FIRECRACKER 100 SATURDAY AT MONADNOCK MONADNOCK SPEEDWAY JULY 2 EVENT STORY
WINCHESTER, N.H. – Over-the-top chaotic finishes, brutal crashes, and one amazing aerial fireworks display. It was American Saturday night short-track racing at its best, and the large crowd on hand for the Firecracker Night spectacular Saturday at Monadnock Speedway enjoyed it all.
Second generation Modified star Matt Kimball led the last 82 laps of the night's main event to score his first victory of the summer at his old home track. Ryan Currier won his second Late Model Sportsman feature this season, and Tim Wenzel won for the first time in the night's Street Stock 25-lapper.
Mini Stock blaster Gordon Farnum roared to his fourth 2022 victory, while Pure Stock teen phenom JD Stockwell carried the checkers for the second time. In the Young Guns, 11-year-old Owen Zilinksi won for the third time, then quickly turning his car over to older brother Zach, who would have a strong run in the Pure Stocks.
Kimball set fast time with a lap of 12.921 seconds and then started fifth on the 17-car grid as the night's 100-lap Fire Cracker 100 NHSTRA Quest For The Cup main event went green. He took the lead from Tyler Leary on lap 18 and then had the only safe seat in the house the rest of the way.
Chief starter Brian Martin's right arm must have tired in this one, as no fewer than six caution and three red flags slowed Kimball's path to the checkers. His was, in fact, the only car in the field not involved in at least one of the yellow flag incidents.
Leary, involved in a lap-58 wobble while trying to reclaim second from Brad Zahensky, came back through the field to score the runner-up finish, while Aaron Fellows overcame two trips pitside to earn the third-place hardware just ahead of Zahensky
Previous winner Brian Chapin was quickly gone on lap three, while a lap-48 frontstretch wreck trashed both JT Cloutier and Cory Plummer's rides.
Teen star JD Stockwell took the lead from recent Young Gun grad Zach Zilinski on lap eight of the Pure Stock feature and held on to score his second win of the summer. Chris Davis and Zilinski had trophies almost in hand until cars flew in all directions at the north end of the track on lap 24.
Billy Graham, in the hunt all race long, steered clear of the last-lap confusion to earn his first top-three of the season in second, with Fast Eddie Petruskevicius impressive in third. Top points drivers Kyle Robinson Newell and Davis were 13th and 12th on the night, with Stockwell's win enabling him to leapfrog Davis and end the night tied atop the points parade with Robinson Newell.
Street Stock points leader Tim Wenzel, gunning to fill the championship shoes worn by his brother Nate a year ago, won his first race of the year Saturday. Taking the lead from two-time winner Kenny Thompson on lap nine, Wenzel then darted off to win with ease.
Keith Johnson spent most of the race glued to Thompson's bumper before settling for third, and Hillary Renaud – driving with her broken right arm in a cast – impressed in fourth.
Week one LMS winner Ryan Currier was victorious in both his heat and feature races Saturday, pacing the field for all 25 laps in the main to take sole possession of tops in the points parade again. Ryan Bell rubbed his way to second on the final lap to repeat his runner-up finish of week nine, with multi-race winner Justin Littlewood just a wheel back in third.
Gordon Farnum took the lead from week-nine Mini Stock winner Cameron Sontag on lap ten and never looked back. This one ended with both the yellow and checkers in the air, but the top three of Farnum, Sontag, and Kevin Clayton were all free of the late-race follies.
Monadnock Speedway will return to action next Saturday, July 9, with a six-division card of NASCAR Advance Auto Series weekly racing series events, plus competition by the visiting New England Dwarf Car Series. Post time is 6 pm.
---
Article Credit: Gary Dutton
Submitted By: Michelle Cloutier
For more information, visit Monadnockspeedway.com
Posted: to Racing News on Mon, Jul 4, 2022
Updated: Mon, Jul 4, 2022