Wayne Coury, Jr Wins Late Model Fall Final at Stafford Motor Speedway
Gets His First Win There in BFR Chassis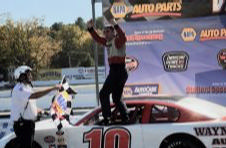 September 29, 2019 by Shawn Courchesne
STAFFORD – Wayne Coury Jr. has had the feeling for much of the 2019 season that he and his team had all the right pieces in place to visit victory lane for the first time in the Late Model division.
And then the frustrations set in as week after week went by without that win.
"It is probably one of the most frustrating things that I deal with," Coury said. "… It's been tough because we knew that we've been on our game and I know on any given night I've gone by some of the guys that have won races all year. I just knew that given the right circumstances we'd get it done. It's been very frustrating."
Sunday Coury got to ensure that frustration wouldn't carry over to a long winter's offseason.
Coury came out on top of a late race battle with Michael Bennett to win the 30-lap Late Model feature at the NAPA Fall Final at Stafford Speedway.
Coury, of Shelton, tarted in the Late Model division in 2005 at Stafford, but spent most years running part-time.
"Long overdue," Coury said. "It may be a surprise to some people out here, but it wasn't a surprise to all these guys on my crew."
Bennett, of Willington, was second and Kevin Gambacorta of Ellington third.
Coury passed Bennett for the lead on lap 23, but Bennett came right back to retake the lead a lap later. On lap 27 Coury once again made the move under Bennett in turn one to retake the lead. Coury was able to hold off Bennett on a green-white-checkered finish after a late caution.
"It just comes down to making the pass and making sure that he didn't effectively get me back," Coury said. "We did a little swap there but I knew that if we got by and I just kept my cool we'd be alright."
Said Bennett: "My first win [on Sept. 14, 2007] I beat him and now his first win he beat me. A lot of years in between. We started this division together as rookies. … This is the worst second place I think I've ever had."
Posted: to Racing News on Sun, Sep 29, 2019
Updated: Sun, Sep 29, 2019