Craig Bushey wins Tiger Sportsman Championship at Speedway51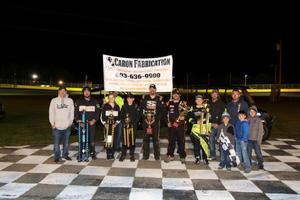 /Users/kimfill/Desktop/2018-DIVISION-CHAMPIONS.jpg
Sept 24, 2018
The regular season at Speedway 51 in Groveton, New Hampshire is complete, and it was an awesome championship night as Caron Fabrication of Groveton presented all the night's activities. Winners included Quinney Welch, Nick Gilcris, Kasey Beattie, Chris Ouellette, Makita Giroux and Nicole Ouellette.
The North Country Ford Late Models were first on the card on this very chilly night and a solid field of cars took the green flag. The early battle between Craig Bushey and Matt Carbone was intense as Carbone was on a rail but a determined Bushey held onto the lead. Jeff Marshall worked his way past Carbone at the halfway point for second bringing Quinney Welch along with him. Welch worked his way under Marshall on lap 53 and then set sail for Bushey. Welch grabbed the lead and coasted to victory leaving a tight battle for the next three spots. Marshall raced home second ahead of Bushey, Mike Kenison, and Stephen Hodgdon. Point leader, Brendan Moodie had to settle for a seventh place finish but accumulated enough points to capture his first ever Late Model championship.
Always a bridesmaid, never a bride was the slogan for Nick Gilcris as he placed second numerous times all season long in the Perras Ace Hardware Tiger Sportsman. Gilcris was not to be denied in the curtain closer as he dominated the 40 lap main event. Early leader Steve Heitz raced home to another podium finish in second ahead of newly crowned Tiger Sportsman champion, Craig Bushey. Kevin Boutin and Jason Kenison completed the top five. Heitz and Kenison won their respective qualifiers.
Young Kasey Beattie trailed Greg Adams by just 13 points heading into the night in the Caron Fabrication Street Stocks. He closed the gap to 10 points after the heat race victory. Beattie opened up a straight away lead on Allan Birch, Isaac Spaulding and Adams when all of a sudden Spaulding's car turned right into Adams in turn four sending him hard into the wall destroying his car and sadly, his championship hopes. Spaulding was parked for the night for his actions. In the final rundown, Beattie was the winner over Birch, Reggie Theroux, Ryan Ware and Tom Merchant. Beattie won the lone heat race. Beattie is the 2018 Street Stock kingpin.
It was a solid battle for the Claudette & Dean's Place Daredevils as the four car event was a dandy. Three cars swapped the lead back and forth all twenty laps and when it was over, Makita Giroux was the winner, his 8th victory of the season. Jaxon Edwards was a close second, Laci Potter third and Jesse Laquerre was right there challenging the pack, ended up fourth. Giroux is the 2018 point champion.
Chris Ouellette used his sister as a pick to race by teammate Nick Miller to Capture the White Mountains Community Cyclone feature event. It was the 6th win of the season for Ouellette. Following Miller was Jon Savage, Shawn Hood and Jean Leblanc.
Nicole Ouellette was the first Lady Angel to the stripe and her victory gave her the 2018 Lady Angel championship. Laci Potter raced home second.
Speedway 51 powered by the Autosaver Group is closed until the biggest event of the season, the Mom's Fall Brawl, featuring the Lil Joey Generation Next, Late Model 151 lap main event set for Saturday, October 6th at 1pm. Also on the card will be Tiger Sportsman, Street Stocks, Daredevils and a Cyclone/Warrior Challenge. For more information on this event and others visit the website at www.speedway51int.com, or call the Track hotline at 802-266-0240. Speedway 51 is located at 78 Craggy Road in Groveton, New Hampshire.
Posted: to Racing News on Mon, Oct 1, 2018
Updated: Mon, Oct 8, 2018