Craig Pianka Conquers Sportsmen
Takes Checkers only second time behind BFR Chassis car at Seekonk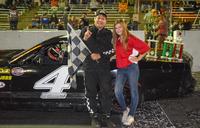 Sep 16, 2018
Captain Fun came full circle on Saturday night, holding off a charging Kyle Casper and Sparky Arsenault as well for a huge Sportsman win in the late season. Full circle, as three weeks earlier, he'd been knocked up and into the wall. His car was toast. He figured it was time to retire from racing. And then, Mrs. Pianka, a brilliant statesman (person) told him: "Go out and buy another one." Which is the synthesis of this report.
The main problem was Kid Chaos – Corey Fanning, who strode off the outside pole on polesitter Jason Steely and was churning the track in the lead. The Captain decided it would be Fun to chase him down with the new car which had run so well last week.
Casper, who started on the outside of the grid, between Fanning and Pianka, got past Steely but Pianka was right behind him. Casper's time in second was limited to two laps before Pianka came battling past.
Paul Lallier, just single digits ahead of Scott Bruneau in the championship race, was battling forward at mid pack. He got under Ed Perry and into ninth as Bruneau got past Justin Travis and Vinny Pangelinan into eleventh. Eight laps down and the order was Fanning, Pianka, Casper, Steely and Rob Kohler, While behind them, Lallier got under Steve Axon into eighth. Axon took it back and they battled on.
Fanning, Pianka and Casper battled on at the front, still nose-to-tail. With eleven laps remiaing, Pianka again attempted to nose under the leader crossing the stripe. They ran door-to-door, but in turn four, Pianka ran to the front. Fanning held on to second, followed by Casper and Steely. Pianka went out to a two-car lead over the next lap and lapped Donald Perry in the process The top three were still bumper-to-bumper. Sparky was now in fifth, behind Steely. Three laps were on the Pylon as Travis spun under the flagman's tower.
The lead trio set up for the restart with four laps remaining, due to revision to the previous completed lap. Casper, in the second row, had Steely to the outside. Sparky and Kohler followed. Pianka pulled away and Casper screamed in under Fanning as did Arsenault. Casper pressed the attack, but was unable to conquer the flying Pianka. Axon pushed Fanning back to fifth as Lallier ran forward to pass Steely and take Sixth. Bruneau also piled past into seventh and Tyler Lallier came in to grab eighth and put Bruneau into a Lallier sandwich.
Pianka, Casper, Arsenault, Axon and Fanning made up the front five. Paul Lallier was sixth, followed by Bruneau, Tyler Lallier, Jesse Melberg and Vinny Pangelinan to complete the top ten.
Posted: to Racing News on Thu, Sep 20, 2018
Updated: Mon, Oct 1, 2018