Ryan Waterman Gets 4th Street Stock Win of Year at Speedbowl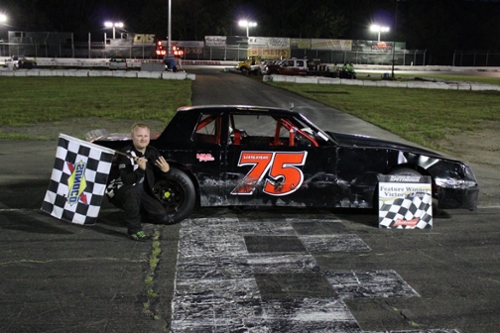 Posted July 24, 2021 Race Day CT
Jonathan Puleo was a rookie all over again.
Even though he won the 2018 New London-Waterford Speedbowl SK Lite Modified title, he had never stepped inside car owner Larry Goss' SK Lite until Saturday.
It didn't take him long to get comfortable.
Puleo started 12th in the 19-car field, calmly moved up through the field and roared underneath Buddy Charette with 9 laps to go en route to his first win of the season. Puleo has seven career SK Lite wins, but this was his first since 2018.
In other action, Ryan Waterman grabbed his forth win of the year in the 30-lap Street Stock feature, Charles Canfield came alive in a green-white-checker finish to win the 30-lap Mini Stock feature. Jason Palmer held off Jordan Hadley and Ray Christian en route to his fourth Late Model win of the year and Jim Boyle nailed down his second consecutive Truck feature.
Puleo has spent the past two years in the SK Modifieds, but his return to the Lites was a profitable one. He fought off Wayne Burroughs over the final eight laps after taking the lead from Charette.
"I think Wayne definitely had the better car," Puleo said. "But I saw the 28 (Charette) drifting back and I decided to go for it. I gave him a taste of his own medicine."
"JP (Puleo) is always a lot of fun to race against," Burroughs said. "He raced me clean."
There were a lot of fireworks in the Street Stock feature, but none of them involved Ryan Waterman. He started seventh, sifted through the field and took the lead from Shawn Gaedeke midway through the race.
Waterman strolled through the final 15 laps, nut there was plenty of incidents behind him. The most significant involved Shawn Monahan, who was knocked into the fence and rode the wall for about 300 feet. Monahan was uninjured, but his car, which advanced all the way to fourth, was done for the night.
A late caution set up a side-by-side duel overt the final five laps between Waterman and Al Stone, but Waterman was able to pull away.
"I just had to be smooth," Waterman said.
"Congratulations to Ryan," Stone said. "He had the better car.
It appeared that Garside was on his way to a dominating win the 30-lap Mini Stock race until a caution flag came out with two laps to go. Canfield surged ahead on the double-file restart on his way to his second straight win.
"I guess I have a good three-lap car," Canfield said. "If that caution didn't come out, it was Chris Garside's race."
Garside, however, developed handling issues in the two-lap dash for the dollars.
"The car started getting a little free," Garside said. "He just got me in those last two laps."
Palmer survived a three-way battle between him, Jordan Hadley and Ray Christian to pull away during the final portion of the race. Christian spun twice during the final 10 laps to knock him back to seventh.
"Tonight you saw some good, hard racing," Palmer said. "The car still isn't the way we want it, so we have to do some work. I think this car still has a lot of life left."
Hadley made many challenges at the lead in the final 10 laps, attacking Palmer on the inside, but could not squeeze by.
"Jason was great," Hadley said. "That's why I like this division."
The win enabled Palmer to vault past Christian in the point standings. Palmer leads by six.
A week ago in the 50-lap Truck feature, Boyle complained that his truck got loose, costing him a win. He later was declared the winner when first-place driver Tyler Chapman was disqualified.
There were no complaints Saturday when he pulled away from the field in the second half of the race.
"Jim Boyle is just awfully fast right now," said Randy Burr, who finished second.
The Racing Guys put up an addition $700 in prize money in the payouts for both the Street Stock and Mini Stock divisions.
Racing continues at the Speedbowl Wednesday with Wild and Wacky Wednesday. There will be double features in both the Super X-Car and Legends features in addition to features in the X-Cars and Bandoleros.
25-lap SK Lites: 1. Jonathan Puleo, Branford; 2. Wayne Burroughs, Oakdale; 3. Ethan Durocher, Canterbury; 4. Buddy Charette , Woodstock; 5. Jason Chapman, Ellington; 6. John O'Sullivan, Salem; 7. Mike Mitchell, Cumberland RI; 8. .Evan Bourgeois, East Haddam; 9. Tyler Alkas, Kensington; 10. Charlie McDougall, Naugatuck.
30-lap Late Models: 1. Jason Palmer, Berlin; 2. Jordan Hadley, Waterford; 3. Jaret Curtis, Rutland, Mass.; 4. Charles Bailey III. Lisbon,' 5. Isaiah Newcomb; Plymouth, Mass.; 6. Michael Lindquist, Sandy Hook; 7. Raymond Christian, Uncasville, ; 8. Jason Williams, Lisbon,; 9. Chase Curtis, Rutland, Mass.; 10. RJ Marcotte, Millville, Mass.
30-lap Street Stock feature: 1. Ryan Waterman, Danielson; 2. Al Stone III; 3. Shawn Gaedeke; 4. Nickolas Hovey, Chaplin,; 5. Aaron Plemons, Uncasville; 6. Walter Hovey, Chaplin,; 7. Jason Chicolas, Sutton, Mass.; 8. Jon Porter, East Lyme,; 9. Eric Lutz, Miller Place, NY; 10. Doug Curry, Groton,.
30-lap Mini Stocks: 1. Charles Canfield, East Haven,; 2. Christopher Garside, Groton; 3. Tommy Silva, Gales Ferry; 4. Jared Roy, Sterling; 5. John Bavolacco. Stratford,; 6. Pete Zaikarite Jr.' East Windsor; 7. Kevin Moore, Moosup; 8. Bill Sylvia, Preston; 9. Nicholas Pappacoda, North Branford,; 10. Joe Bavolacco, Stratford,.
25-lap Speedbowl Trucks: 1. Jim Boyle, Dayville; 2. Randy Burr, Middlebury, Mass.; 3/ Ken Cassidy Jr., Lisbon, CT; 4. Duane Noll, Monroe,; 5. Tyler Chapman, Mystic; 6. Todd Taylor, Stonington; 7. Joshua Stringer, Dayville,; 8. Chris Taylor, East Lyme; 9. Andrew Pellegrini, North Grosvenordale; 10. Mercedes Caron, East Hampton.
###
https://racedayct.com/2021/07/jon-puleo-tops-sk-light-mods-saturday-at-speedbowl/
Posted: to Racing News on Mon, Jul 26, 2021
Updated: Mon, Jul 26, 2021