Nathan Wenzel Wins Street Stock Feature at Monadnock Speedway
Brother Tim Wenzel finishes 2nd, Hilary Renaud finishes 5th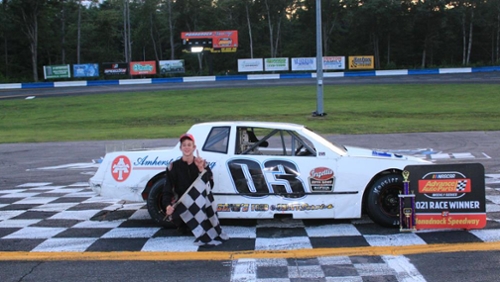 JULY 10, 2021 RACE RECAP
PATNODE, CAM CURTIS, NATE WENZEL WIN SATURDAY AT MONADNOCK
Monadnock Speedway July 10 event story.
By Gary Dutton
WINCHESTER, N.H. – Firecracker Night. It's long been a very special day of the year at Monadnock Speedway. Friday's 115-car, seven-feature card of racing and huge aerial fireworks display added luster to the tradition. Modified star Todd Patnode reclaimed the points lead with his second win of the summer, Emerson Cayer rocked the Minis, and Nate Wenzel boosted his championship title plans with his first Street Stock victory Saturday.

Monadnock went rogue this year with its huge fireworks show, staging its own aerial act that wowed the huge crowd on hand for the annual biggie. Delayed by rain a week earlier, Saturday's Independence Day shout-out sent everyone home happy. And no one went home happier Saturday than Todd Patnode. Winless since May 22, Patnode took the lead from Tyler Leary on lap 17 Saturday and never looked back. Leary's bid for three wins in a row came up just short, as the Hatfield, Mass. star settled for a strong runner-up performance. Solomon Brow was third in the five-caution 40-lapper. Ben Byrne and Aaron Fellows skated to fourth and fifth.

Nate Wenzel entered Saturday's Street Stock feature atop the points parade but still winless on the summer. Taking the lead from Hillary Renaud with a low dive through turn two on lap ten, he then stormed off to victory lane. Tim Wenzel followed his younger brother under the checkers, with three-time winner Chris Buffone third on the night. Renaud, stuck in the outside groove on a restart, was fifth, just behind Rupert Thompson.
Cam Curtis had put together a Superman string of three LMS wins earlier this season before returning to earth. Saturday, he dialed it back up to claim his fourth 2021 victory lap. With only one early caution to slow him, the Baltimore, VT teen sailed off to win ahead of Justin Littlewood and Austin Brehio.
With 37 Mini Stocks on hand for Saturday's 50-lap Battle for The Belt race, the speedway's weekly competitors were facing a big test. Contoocook's Emerson Cayer, a veteran of many laps here, put them on notice.

Cayer took the lead on lap 22 from hometrack star Kevin Cormier and never looked back, taking the checkers ahead of fellow tour regulars Matt Sonnhalter and Justin Trombley. Four-time 2021 winner Gordon Farnum fell out of the points lead after a disastrous 24th place night.
The 23-car Pure Stock field soared through 40 caution-free laps, as Nick Houle topped the first annual Steve Zebrowski Memorial Race, stuffing his pockets with lap money as he led the final 36 go-rounds Saturday en route to win number three on the season. Kyle Robinson Newell, strong all night, earned the runner-up hardware, with Magic Mark McClay, victorious the night before at Claremont, earning his first Monadnock trophy of the summer in third. Points leader Chris Davis came home sixth in the rapid-fire event.
The Young Guns feature? Who else, Fast Eddie Petruskevicius stormed to his six win of the season, taking the checkers far ahead of Dominick Stafford and Eddie Gomarlo. Like former Gunner Jake Bosse before him, the 13-year-old hot shoe later got his feet wet in the Pure Stock feature.
Justin Harris won the New England Classic Lites feature, his second victory here this summer. Cody Hodgdon was second in Friday's Lites 25-lapper, and Jason Hodgdon came home third.

There will be no races next Saturday, July 17, at Monadnock Speedway, as the high-banked oval pauses for its annual summer break weekend. The speedway's 2021 season will resume on Saturday, July 24.
---
Article Credit: Gary Dutton
Submitted By: Michelle Cloutier
Posted: to Racing News on Mon, Jul 12, 2021
Updated: Mon, Jul 12, 2021